Maserati reveals new Quattroporte videos: Design, Powertrain and Tech Specs
Earlier yesterday Maserati unveiled images of their new sedan, 2013 Maserati Quattroporte. 2013 North American Auto Show to be held in January 2013 will see…
Earlier yesterday Maserati unveiled images of their new sedan, 2013 Maserati Quattroporte. 2013 North American Auto Show to be held in January 2013 will see first public appearance of the 6th generation Quattroporte luxury sports sedan while sales are scheduled for later in the year.
The company has revealed photos and videos that showcase both exterior and interiors of this upcoming model which once launched will contend against other luxury models such as BMW 7 Series, Mercedes Benz S Class and Jaguar XJ. Though no facts and figures are yet available it can be made out that the upcoming Quattroporte is longer and style is more contemporary adding to its sporty image.
A new front grille design, three side vents, triangular C pillar, frameless doors and three side windows are apparent while the vehicle sees extensive use of aluminum which contributes to its lighter weight. Interior space is enhanced while keeping designs to the minimum yet pleasing to the eye with additional use of wood and refined leather. 2013 Quattroporte is designed and developed by Maserati and Ferrari and is bring produced from the Ferrari Maranello plant.
For more images, click here.
The New Maserati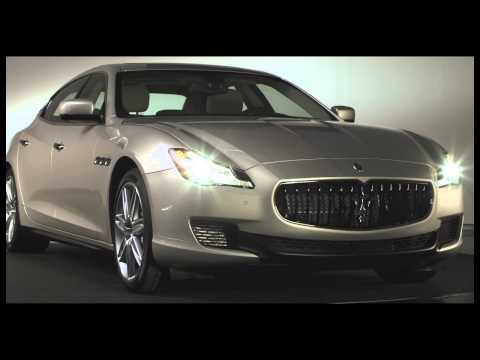 Maserati Quattroporte: Italian Design at its Best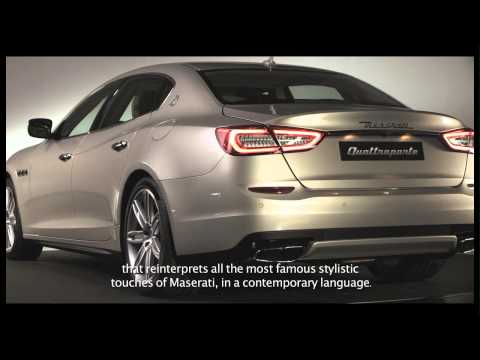 Maserati Quattroporte: Key Technical Features
Maserati Quattroporte: All New Next Generation Powertrain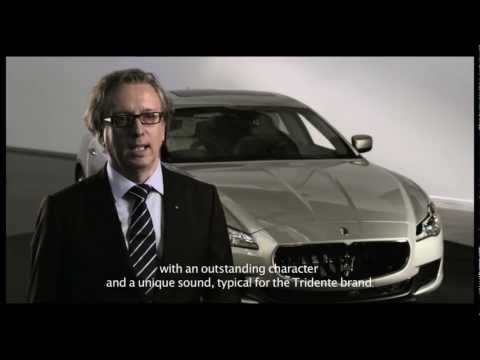 Auto News Release
New Maserati Quattroporte set to debut at 2013 NAIAS in Detroit
The New Maserati 
"Maserati stands today at the edge of an unparalleled strategic and industrial growth that will see our presence in the world rise to 50,000 units a year by 2015. This growth is a challenge for which Maserati has carefully prepared itself and that we all welcome with anticipation.
It is a growth based on those values of style, elegance, quality, performance for which Maserati has been always recognized and praised in almost 100 years of history. This exciting progression will make the new Maserati a true global player with two new production sites in two different continents and a heart solidly planted in Modena, Italy, where our roots are.
It is a growth that will be based on three new models entering two new segments of the automobile market – and it starts with the all-new 2013 Maserati Quattroporte."
Harald Wester, Maserati CEO
Maserati Quattroporte: Italian Design at its Best
"The new Maserati Quattroporte is a high-performance sports luxury sedan that reinterprets the design features of classic Maseratis in a contemporary design language. Its style was born out of the guiding design principles of Maserati: harmony of shapes, dynamism of lines, Italian elegance. More generous in size when compared to the previous model, the new Quattroporte has a design that is at once graceful and sinuous, fashioned to bring out the sporty nature of the car.
Some of the elements characterizing the previous model have been purposely maintained: the front grill, the three side vents, the triangular C pillar. At the same time new style and functional features were introduced: the strong belt line that runs through the entire side of the car giving the new Quattroporte a look and feel that is at once muscular and elegant with frameless doors and three side windows..
Inside, the design of the Quattroporte aims at essentiality, stressing the simplicity of lines and the full functionality of the in-board instrumentation. Functional elements are blended with soft quality surfaces made of prestigious woods and refined leathers."
Lorenzo Ramaciotti, Head of Maserati Design Center
Maserati Quattroporte: All-New Next Generation Powertrain
"The innovative Maserati proprietary engines of the all-new Maserati Quattroporte have all been designed and developed by Maserati and Ferrari engineers in the heart of Italy's motor valley. As a matter of fact, they are going to be produced in the Ferrari plant in Maranello that has been synonymous with cutting-edge technology and passion for well over 60 years.
Passion is indeed the middle name of a whole new generation of Maserati engines that will equip the all-new Maserati Quattroporte and the models that will soon follow her on the market. The passion and state-of-the-art technology that is at the heart of all the new Maserati engines that will be mounted on the next generation of Maserati products have produced engines that are not only more powerful than ever, or more exciting to drive than ever – bust also more eco-friendly than ever before."
Paolo Martinelli, Maserati Powertrain Director
Maserati Quattroporte: Key Technical Features
"Refined technical solutions, an explicit attention to the most challenging targets in terms of performance, comfort, efficiency and safety – these are the key elements of the all-new Maserati Quattroporte.
Maserati engineers have worked – with a competence matched only by their passion – in chassis designing and engineering, weight reduction, ergonomic enhancement to develop a car capable of fitting different powertrain architectures and transmission configurations for the most diverse driving conditions but always maintaining Maserati's trademark best-in-class driving comfort.
The results is the all-new Maserati Quattroporte, a luxury sports sedan that reaches new heights in terms of performance and handling, driving enjoyment as well as respect of the world we live in: the best performance ever in the long history of Maserati's four-door flagship sedan are matched by the unprecedented success in the quest for an eco-friendly automobile. All this done, of course, as you may expect from Maserati, in the spirit of the most severe active and passive safety conditions."
Roberto Corradi, Maserati Vehicle Development Director