2014 Mercedes Benz E63 AMG 4MATIC revealed (Videos)
Mercedes Benz revealed their 2014 E63 AMG. Available in three trims, this is the most powerful E63 AMG yet. Top of the line E63 AMG S-Model generates 585 hp power and 800 Nm torque.
Mercedes Benz has officially unveiled the 2014 E63 AMG. This new Mercedes Benz car is more powerful than the outgoing variant. 2014 E63 AMG has been given a redesigned front fascia with LED headlights and a new twin blade design on its front grille. It will also sport a wider front skirt thereby giving the vehicle a more aggressive stance than its earlier counterpart. Mercedes Benz is scheduled to display the new E Class range at the 2013 Detroit Auto Show, which starts on 14th Jan 2013.
Mercedes Benz will be offering three different editions of Mercedes Benz E63 AMG, all of which will possess a 5.5 liter V8 Biturbo engine though output will vary. The base model will have output of 557 hp with maximum torque of 720 Nm. Acceleration from 0 to 62 mph will be completed in just 4.2 seconds. The mid level model will be mated to an all wheel drivetrain with acceleration in 3.7 seconds while the top end model of Mercedes Benz E63 AMG 4MATIC S-Model will possess 585 hp power and 800 Nm torque with acceleration completed in 3.6 seconds.
The new E63 AMG will be finished with carbon fiber while other features include Bang & Olufsen BeoSound stereo system, Alcantara leather upholstery and 10 spoke AMG light alloy wheels are among a host of innovative and luxurious features seen on the E63 AMG. Set to arrive in dealer showrooms by April 2013, the top end model 4 MATIC S-Model will be available from June of 2013. For more information, scroll down.
The All-New E 63 AMG and E 63 AMG S-Model 4MATIC

The New Mercedes-Benz E 63 AMG Models for 2013 (W 212 & S 212)

AMG Sound! – Mercedes 2014 E 63 AMG Race Track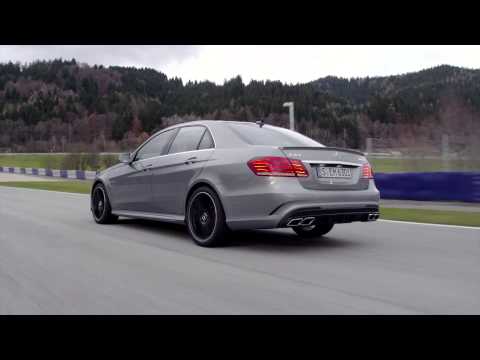 Auto News Release
A new benchmark in performance, dynamism and efficiency: The new E 63 AMG – with 4MATIC and as S-Model
Affalterbach, Jan 10, 2013
Affalterbach – Mercedes-AMG continues to champion performance, dynamism and efficiency: the new E 63 AMG is now available as a particularly powerful S-Model with an output of 430 kW (585 hp), 800 Newton metres of torque and featuring a newly developed performance-oriented AMG 4MATIC all-wheel-drive system. The AMG 5.5-litre V8 biturbo engine continues to be the absolute pinnacle of efficiency: the combination of high performance and low fuel consumption remains unrivalled by any other competitor in the segment worldwide. The permanent all-wheel drive is also optionally available for the other E 63 AMG models – on which the V8 engine has been uprated from 386 kW (525 hp) to 410 kW (557 hp), with 720 Nm of torque. With this range, Mercedes-AMG is premiering high-performance passenger car models with an all-wheel-drive system geared to driving dynamics.
The launch of the new, customised model variants will offer Mercedes-AMG customers greater scope for individuality than ever before. The new E 63 AMG presents a more powerful character and a more dynamic appearance than all its predecessors: the new AMG design philosophy is immediately apparent at first glance, with the new "twin blade" radiator grille and the new "A-wing" in the AMG front apron defining the exclusive look. As previously, the top AMG model is available as a Saloon and Estate. The E 63 AMG's appeal is also boosted by substantially enhanced value for money: customers now receive more performance and driving dynamics and a broader scope of standard equipment and appointments.
The CLS 63 AMG also benefits from the new model range constellation: similarly to the E 63 AMG, the CoupĂ© and Shooting Brake will also be available with performance-oriented AMG 4MATIC all-wheel drive. Alongside the successful SUVs – ML 63 AMG, GL 63 AMG, G 63 AMG and G 65 AMG – two passenger car model ranges comprising up to eight unique models with all-wheel drive are now available from Mercedes-AMG in the guise of the E 63 AMG and the CLS 63 AMG. Additional models featuring performance-oriented AMG 4MATIC all-wheel drive, such as the A 45 AMG and the CLA 45 AMG, will follow this year.
"'Driving Performance' encapsulates the philosophy pursued at Mercedes-AMG," explains Ola Källenius, Chairman of Mercedes-AMG GmbH. The new model variants of the E 63 AMG and CLS 63 AMG clearly demonstrate how we are now offering our customers even more individuality. The S-Models in particular represent the most attractive proposition in the segment, boasting substantially enhanced value for money: the highest power and torque ratings in the segment, the new performance-oriented AMG 4MATIC all-wheel drive, the new design and substantially more standard equipment and appointments are the outstanding strengths of the new high-performance automobiles from Affalterbach. With the new all-wheel-drive S-Models we will reach new customers and markets."
"With the exclusive S-Models, we have sharpened the dynamic profile of the
E 63 AMG and the CLS 63 AMG substantially," adds Tobias Moers, head of overall vehicle development and member of the management board of Mercedes-AMG GmbH. "These high power and torque ratings are exclusive to AMG. Our AMG 5.5-litre V8 engine remains the most efficient series production V8 engine in the world. The newly developed, performance-oriented AMG 4MATIC all-wheel drive attains the best acceleration values in the segment, as well as offering our customers markedly higher driving dynamics than ever before."
Overview of models for the German market:
E 63 AMG Saloon

E 63 AMG 4MATIC Saloon/Estate

E 63 AMG 4MATIC S-Model Saloon/Estate

Displacement

5461 cc

5461 cc

5461 cc

Output

410 kW (557 hp) at 5500 rpm

410 kW (557 hp) at 5500 rpm

430 kW (585 hp) at 5500 rpm

Max. torque

720 Nm at
1750-5250 rpm

720 Nm at
1750-5250 rpm

800 Nm at
1750-5000 rpm

Fuel consumption NEDC combined

9.8 l/100 km

10.3 (10.5) l/100 km

10.3 (10.5) l/100 km

CO2 emissions

230 g/km

242 (246) g/km

242 (246) g/km

Acceleration 0 – 100 km/h

4.2 s

3.7 (3.8) s

3.6 (3.7) s

Top speed

250 km/h*

250 km/h*

250 km/h*
* electronically limited; values for E 63 AMG Estate in brackets