Audi Q5, A6, A7 and A8 with new diesel engines revealed at 2012 LA Auto Show
As 2012 Los Angeles International Auto Show is currently underway till 9th December 2012 at LA Convention Centre, Audi will be showcasing their new diesel…
As 2012 Los Angeles International Auto Show is currently underway till 9
th
December 2012 at LA Convention Centre, Audi will be showcasing their new diesel engine, the 3.0L V6 which was revealed in the Q7 back in Sep this year. Audi's new diesel will now power the new A8, A7 A6 and Q5.
These four new models will possess same 3.0 liter V6 TDI diesel engine while the A8 is also scheduled to have a diesel option with sales commencing from spring of 2013. Audi's current diesel lineup in the US, only includes the A3 compact and Q7 SUV. Audi diesel engines are highly fuel efficient boosting fuel economy by 30% as compared to petrol counterparts.
Audi TDI engines have saved customers over 4 million gallons of fuel ever since they were introduced in the US in 2009. The new V6 TDI engine also have enhanced output and performance offering 240 hp and 406 lb/ft torque while the vehicle can sprint form 0 to 60 mph in 6.4 seconds and fuel efficiency is at 24 mpg (10.20 kmpl) in city limits and 36 mpg (15.31 kmpl) on the highway.
Audi 3.0 Diesel Fitted to Four More Cars – 2012 L.A. Auto Show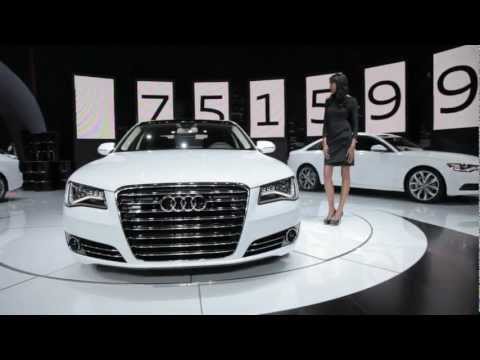 A first drive in a manual rickety old van was enough to pave the road forward for Managing Editor, Sagar Patel. When not driving or riding, his dexterity shifts gear to voice passion through words via reviews, and news, all the while, closely monitoring updates from the auto industry.
Email -
[email protected]
Latest posts by Sagar Patel (see all)
Photo Gallery (8 images)