BMW Motorrad partners exclusively with Dhoom 3
Dhoom 3 movie features two BMW superbikes, K1300R and S 1000 RR. Both bikes are shown in the trailer of the upcoming Bollywood movie, the former ridden by Aamir Khan, while the latter by Uday Chopra and Abhishek Bachchan.
Being India's foremost action thriller which revolves around stunts with superbikes, Dhoom 3 is set for a global release on 20th December 2013. Speaking about their exclusive partnership, BMW Motorrad reveals, "In Dhoom:3 – the third instalment of the Bollywood blockbuster due for international release on 20 December – BMW Motorrad and Yash Raj Films unveil their debut collaboration in the form of an exclusive motorcycle partnership."
"For BMW Motorrad, the focus is always on the rider's experience. That is why we are incredibly proud to be making our debut not just in an Indian film venture but in the biggest Bollywood blockbuster of the year – and with our BMW bikes playing such a high-profile role," says Alexander Baraka, Head of Events, Exhibitions and Motorsport Marketing. "This is a project predestined for high-speed chases on the big screen."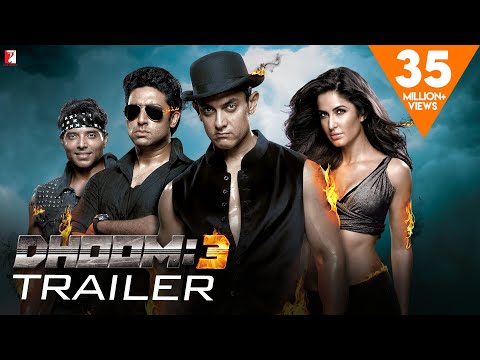 Related Stories
Dhoom 3 trailer blooper: Yamaha R15 disguised as BMW S1000RR
Dhoom 3 trailer released: Aamir and Abhishek fight on superbikes, Katrina as acrobat diva
Dhoom 3 motion poster shows flying superbikes
Dhoom 3 trailer shows Aamir and Uday riding BMW superbikes, Abhishek flying, and Katrina dancing
Dhoom 3 first promo video shows Aamir Khan: Premier on 20th Dec 2013
Acceleration even at standstill: the BMW K 1300 R.
As one of the most powerful models in its segment, the flamboyant high-performance BMW K 1300 R roadster meets the most exacting demands in terms of riding dynamics. Its muscular front end and slim, sporty rear hold out a promise that is fulfilled the moment you set off on this naked bike: the BMW K 1300 R launches into a rocket start while also boasting safe and stable roadholding through corners.
Superbike without compromise: the BMW S 1000 RR.
Ease of handling coupled with extreme ride stability, supreme engine performance allied to perfect everyday utility: thanks to its sporting DNA, the BMW S 1000 RR turns the road into a race track. With its aluminium frame, radical braking system and dynamic tail-up, nose-down design, this bike exemplifies undiluted racing power.
About Dhoom:3
Dhoom:3, the third instalment of the eponymous Bollywood action movie series, will hit cinemas around the world on 20 December 2013. A string of sensational chases sees cop Jai Dixit (Abhishek Bachchan) and his partner Ali (Uday Chopra) astride the BMW S 1000 RR superbike in hot pursuit of the slippery clown thief, Sahir played by none other than Bollywood megastar Aamir Khan, who sets the screen alight with spectacular stunts on the BMW K 1300 R. Filming took place in Chicago and Mumbai.
Photo Gallery (12 images)