2014 Chevrolet Beat electric small car revealed: Heads to 2012 LA Show (Video)
India's Chwvrolet Beat is known as Spark in the American auto industry. General Motors have been working on to launch an electric variant of their…
India's Chwvrolet Beat is known as Spark in the American auto industry. General Motors have been working on to launch an electric variant of their Spark, which has been spied on various occasions. GM now reveals that the production of the new all electric Chevrolet Spark will commence from early 2013 in the US while sales are slated to begin in California from summer.
Chevrolet will be showcasing this all electric Spark at the upcoming Los Angeles Auto Show scheduled for end of November and auto enthusiasts can get set to see this all electric vehicle with an oil cooled, permanent magnet motor which is capable of 134 or 136 hp and 400 lb/ft torque. Chevrolet Spark EV will be able to sprint from 0 to 60 mph (97 kmph) in below 8 seconds.
Enhanced performance and high level of efficiency coupled with its environmentally friendly engine, will ensure high demand for the upcoming 2014 Chevrolet Spark. According to General Motors, this will be the industry's first where SAE combo charger is concerned allowing DC Fast Charging of upto 80% of battery capacity in just 20 minutes. While using a 240V charger, the 2012 Chevrolet Spark EV will reach full capacity in less than 7 hours.
GM has also promised warranty protection for the battery for 8 years of 100,000 miles whichever comes first. Pricing and other details will be revealed when the vehicle goes on display at the end of November. For more information, scroll down.
2014 Chevrolet Beat EV system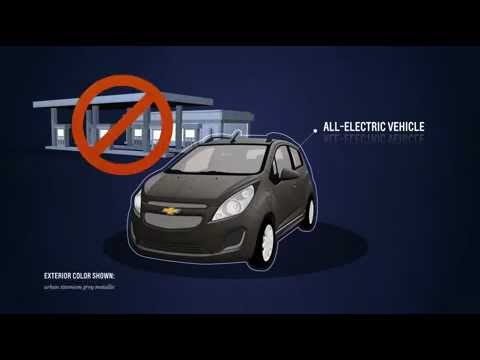 Auto News Release
Chevrolet to Debut Spark EV at LA Auto Show
Advanced version of MyLink for 2014 Impala adds functionality
DETROIT – Chevrolet will unveil the plug-in electric version of the brand's popular new Spark mini car at the Los Angeles Auto Show later this month. The Spark EV is one of 13 new or significantly redesigned products that Chevrolet will be launching in 2013.
Chevrolet will also showcase the expanded functionality of an advanced version of MyLink, which will be available first in the all-new 2014 Impala full-size sedan.
"Chevrolet continues to build on the momentum of eight consecutive quarters of record global sales with the introduction of more new products, features and technologies that are designed to offer consumers exceptional functionality, comfort and convenience," said, Chris Perry, vice president of Global Chevrolet Marketing.
"The Spark EV and next-generation of MyLink demonstrate Chevrolet's commitment to delivering the advanced technologies that today's consumers will be eager to adopt and truly value," Perry said.
The Spark has won over U.S. consumers with its expressive design, roomy interior and MyLink connectivity. In its first three months on sale, the Spark has delivered strong results, particularly in the Los Angeles market. Building on that success, the plug-in electric version of the Spark EV will offer consumers the same package that has made the gasoline-powered model so popular while delivering the technology and performance of pure electric power.
MyLink currently offers consumers easy-to-use in-vehicle connectivity. With the launch of the 2014 Impala, MyLink adds new levels of personalization and more seamless smartphone integration.
In addition to the Spark EV, other Chevrolet vehicles on display at the LA Auto Show include the all-new Impala, Malibu Turbo mid-size sedan, Sonic RS small car, Traverse full-size crossover and Camaro Hot Wheels® Edition.