Ferrari accident seperates its front from the rest of the body (Photos & Video)
Russia was once again home to another horrific sports car crash. This time, the impact was such that a Ferrari 612 Scaglietti was split in…
Russia was once again home to another horrific sports car crash. This time, the impact was such that a Ferrari 612 Scaglietti was split in two, the front got separated from the rest of the vehicle. The accident took place last Saturday, when the driver lost control of the Italian powered V12 exotic and slammed into a metal pole on the roadside.
The aspect that makes this accident stand out is that not only did a Ferrari get totaled but at the same time it caused the car to split into two. The only part of the front end that remained attached to the car was the passenger side fender. Though they were three more passengers inside the car at the time of this accident, none of them were injured. The driver of the car suffered minor injuries.
Ferrari 612 Scaglietti is no longer manufactured. The Grand Tourer went out of production last year and was replaced by Ferrari FF. Powered by a 5.8L V12 generating max power of 540 PS and peak torque of 588 Nm, the Scaglietti was able to accelerate from 0-100 kmph (0-62 mph) in just 4.3 seconds and has a topspeed of 315 kmph (196 mph).
Ferrari Crash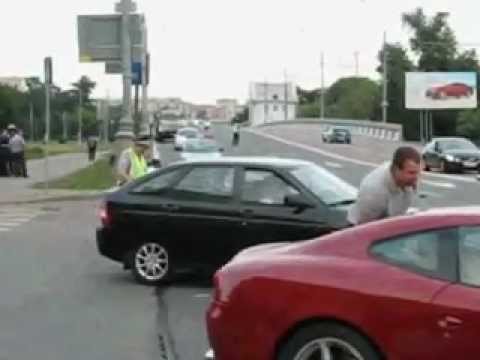 Ferrari worth 14 million rubles ($430,000), crashed into a pole in Moscow
Ferrari was torn in two by hitting the post