Fiat 500L music video: The Motherhood feat
Fiat has introduced a three minute music video named The Motherhood featuring the new 500L. This video stars a cool mother and her three toddlers…
Fiat has introduced a three minute music video named The Motherhood featuring the new 500L. This video stars a cool mother and her three toddlers along with a Fiat 500L. The aim behind this is to target young audience and mothers. Fiat 500L is soon to be launched in the small MPV segment and considering its performance, internal space and safety features being offered the Fiat 500L will definitely appeal to mothers with young children in tow.
Fiat 500L will go on sale in Britain starting at a price of £14,990 OTR (Rs 13.33 lakhs) for base 1.4-liter petrol Pop Star and while this goes up to £18,890 OTR for 1.6-liter diesel Lounge variant. Fiat 500L is longer than the Punto and as wide as the Bravo which means addition space and interior height.
Fiat 500L is being offered in a choice of four engines each of which come with Start/Stop function as standard. It is equipped with a 5" touchscreen radio, Bluetooth, six airbags, ESP program, electric door mirrors and cruise control. The base Pop Star is seen with body colored dashboard and alloy wheels along with side door moldings while Easy trim has rear parking sensors and soft touch dashboard along with electric rear windows. Lounge model is fitted with climate control air conditioning, 16" alloy wheels and fixed glass roof. Light sensors and rain sensors along with front fog lamps are also added. For more information, scroll down.
'The Motherhood' feat. Fiat 500L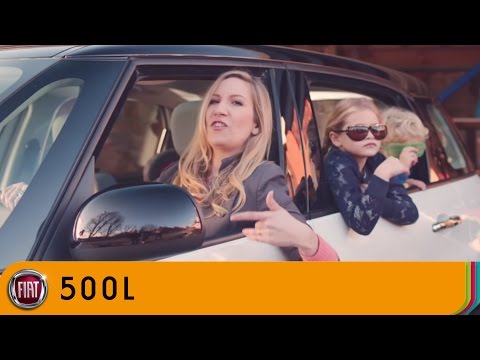 Auto News Release
IT'S A RAP! FIAT CELEBRATES 500L LAUNCH WITH NEW FILM
18/12/12
It's described as the fun and functional car for families, and now the new Fiat 500L is the subject of a clever new rap film celebrating the realities of motherhood.
The edgy and humorous interpretation of everyday family life follows a stylish young mum around her home while she raps about the reality of her life after the arrival of children. It's a no-holds-barred portrayal of the challenges women face as they grapple with their new maternal role.
The film, which has now been posted on the Fiat UK YouTube channel, was inspired by some of the comments made in research groups undertaken by Fiat earlier this year. When discussing their lives, mothers demonstrated the desire to retain their sense of style and modernity while tackling family challenges.
The answer to many of those challenges can be found in the new Fiat 500L, the newest addition to the Fiat 500 family, which launches in the UK next spring. The stylish and versatile car is aimed squarely at style-conscious young families looking for a vehicle that meets their practical needs and reflects their personality.
With five doors and 400 litres of boot space, the Fiat 500L is substantially larger than the Fiat 500 city car but shares the smaller car's iconic looks and numerous personalisation options, making it the perfect choice for stylish young parents who want an attractive car that works for their new family.
The Fiat 500L will be available initially with a choice of four low emissions engines (Euro 6 petrol and Euro 5+ diesel), with Start&Stop as standard on TwinAir and MultiJet engines. The full engine line-up comprises the award-winning TwinAir 0.9-litre petrol (105hp), 1.4-litre 16-valve petrol (95hp), 1.3-litre 16-valve MultiJet diesel (85hp) with manual or MTA transmission, and 1.6-litre 16-valve MultiJet diesel (105hp).
"We wanted to connect with our target audience, starting with dynamic young mums, in a way that demonstrated our understanding of the challenges they face balancing motherhood with their desire to keep hold of their pre-children identity," says Elena Bernardelli, marketing director, Fiat Group Automobiles UK.
"We hope that by dramatising the reality of becoming a new mum in this way, we will raise a knowing smile from mums everywhere, and we are sure that they will recognise how the Fiat 500L can bring a touch of glamour into their family's lives."
The new Fiat range starts at ÂŁ14,990 OTR for the 1.4 Pop Star, rising to ÂŁ18,890 OTR for the 1.6 MultiJet Lounge.