Gunner Jeannette in his Nissan DeltaWing Batmobile race car crashes during 15th annual Petit Le Mans in Road Atlanta practice (Video)
Petit Le Mans is a sports car endurance test held every year at Road Atlanta in Braselton Georgia, USA. The rules and regulations are the…
Petit Le Mans is a sports car endurance test held every year at Road Atlanta in Braselton Georgia, USA. The rules and regulations are the same used for 24 Hours of Le Mans though slightly modified so as to ensure additional cars are able to participate in these annual events. Nissan DeltaWing group has teamed up with Nissan for Le Mans taking advantage of Automobile Club de l'Ouest's Garage 56 concept thus bringing new and innovative technology into these events.
Nissan DeltaWing is a power packed vehicle powered by a 300 hp 1.6 liter Nissan DIG-T engine. It has a narrow front end with aerodynamic wings though contact with a P1 prototype in just six hours of the endurance race forced the car out of the race. This weekend's Petit Le Mans will Nissan DeltaWing will participate in the race. Two days of testing saw DeltaWing clock 1:13:462 with drivers Gunner Jeannette and Lucas Ordonez at the controls. The 15th annual Petit Le Mans in Road Atlanta saw the Nissan DeltaWing with Gunner Jeannette take a smash hit head on dirng practice. The driver escaped unhurt.
Ordonez has competed in P2 for two seasons and is looking forward to participating being the wheel of the Nissan DeltaWing. He will need to change his driving style, how he brakes and when to be in throttle while tackling corners and knows the tricks of the trade to make the car go faster. On the other hand Jeannette is an experienced driver who has had to contend with DeltaWing at Le Mans while behind the wheel of a GT Ferrari 458.
Nissan DeltaWing – Attacked in Atlanta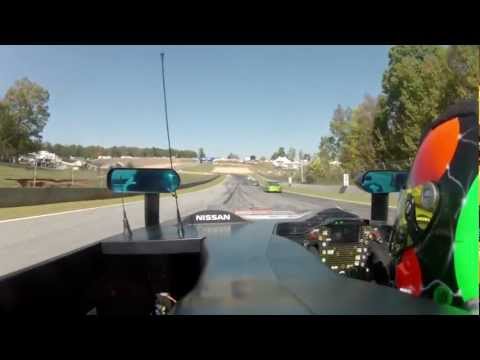 DeltaWing Repairs images