Honda Amaze to Honda City: I will eat you up, gup gup gup
Honda launched the new Brio based sedan, Amaze in Thailand yesterday and have confirmed that it will be launched in India early next year. Honda…
Honda launched the new Brio based sedan, Amaze in Thailand yesterday and have confirmed that it will be launched in India early next year. Honda has launched the Amaze in Thailand in only petrol option, diesel powered Amaze, they say, is specially made for India. Indian auto industry will be the first to get hands on the Amaze diesel next year.
Everybody is happy with the news of Honda launching Amaze, but once the Amaze arrives, what will happen of their City, their bread butter currently in India? Will the Amaze eat up City's share of approximately 2,700 units every month (last six months average)?
Yes, if that happens, it will be a big problem for Honda Cars India. They would definitely not want the City to die, especially when the next gen City is going to be launched in 2014. So how to prevent this from happening? By offering only the 1.5L diesel Amaze in the Indian auto industry and not the 1.2L petrol.
Just like the City, Amaze is also launched in S MT, S AT, V MT, and V AT variants (sunroof is not on offer). Honda Amaze length = 3,990 mm, City length = 4,440 mm, Amaze width = 1,680mm, City width = 1,695 mm, wheelbase of Amaze is at 2,405 mm and that of City is at 2,550 mm, height of City and Amaze is same, kerb weight for lightest variant of Amaze = 925 kgs (965 kgs heaviest), kerb weight for lightest variant of City = 1,085 kgs (heaviest = 1,160 kgs), turning radius of Amaze of 4.6m while of City is 5.3 m.
Tires too are the same (175/65) only difference is in the radius, Amaze has R14, while City has R15. Fuel tank capacity of Amaze is at 35 liters, while that of City is at 42 liters. Amaze petrol delivers 90 hp from 1.2L i-VTEC  while City delivers 118 hp from 1.5L i-VTEC. Honda is yet to confirm whether the Brio hatch will get a diesel heart while new City will get a diesel in 2014.
So if we look from the aspect of an Indian car buyer, it will be the Amaze that will be chosen over City, so Honda will make it easy for them by just launching the 1.5L diesel option and not the 1.2L option. Still a lot depends on how Amaze is priced in India, as the new Maruti DZire, the market leader in the segment, which offers features, comfort and quality at an unmatched price.
Honda Brio Amaze new ad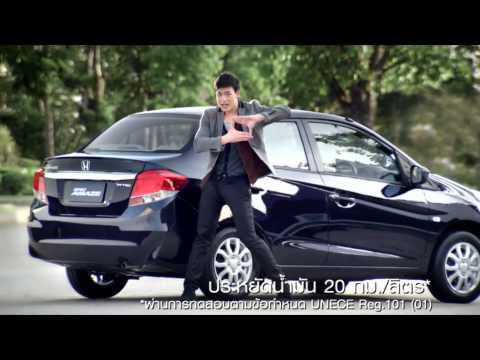 Related Stories
Honda Amaze sedan with Modulo enhancements at 2012 Thailand Auto Show
Honda Amaze diesel engine to be manufactured at their Rajasthan plant
Honda Brio Amaze 360° images: Specifications, accessories and interiors
Honda Brio Amaze live from the launch in Thailand: Price revealed
Honda Amaze sedan revealed: Launch today in Thailand (New ad)
Honda Brio Amaze sedan priced from 455,000 THB: Launch 23 November 2012
Honda Amaze diesel sedan expected to deliver 24 kmpl
Honda Brio Amaze diesel sedan India launch by April 2013: New teaser image revealed
Honda Brio diesel sedan named Amaze in India
Honda Brio sedan revealed like never before (Photos & Video)
Honda Brio sedan caught on test in Thailand: India launch in 2013
Honda Brio sedan video revealed: Diesel version comes to India next year
A first drive in a manual rickety old van was enough to pave the road forward for Managing Editor, Sagar Patel. When not driving or riding, his dexterity shifts gear to voice passion through words via reviews, and news, all the while, closely monitoring updates from the auto industry.
Email -
[email protected]
Latest posts by Sagar Patel (see all)
Photo Gallery (11 images)