Lamborghini drive in Miami and new supercar for 2013 Geneva Motor Show
Lamborghini is celebrating its 50th anniversary this year, with a number of events to mark the occasion. The recently launched Aventador Roadster in India, too was a part of these celebrations.
On a warm sunny day in Miami, Lamborghini unveiled their all new Aventador LP 700-4 roadster. Following the unveiling, fifty Lamborghini's sped to the Miami International Airport for a runway speed demonstration. Here at the airport, five Aventador Roadster's took the runway and touched a speed of 338 kmph, much higher than an average aircraft needs for takeoff.
The new Aventador LP 700-4 Roadster is powered by a 6.5L V12 engine capable of producing 700 PS of power. Its high performance engine ensures that this supercar completes a 0-60 mph sprint within a short span of 3.0 seconds. The Aventador Roadster production car has a top speed of 217 mph (350 kmph) and is infused with lightweight carbon body technology which accounts for its low weight and efficient performance statistics. The unveiling and runway speed demonstration are a part of a 10-day media launch and dealer education program designed to celebrate Ferruccio Lamborghini's dream of creating a refined grand touring car.
Apart from this, Lamborghini boss, Stephen Winkelmann, revealed that the Sant'Agata Bolognese based car maker will unveil a new supercar at the 2013 Geneva Motor Show. This supercar will be part of their 50th anniversary celebrations and just like the Aventador J Roadster, this one too will be a one-off model, built for a special customer.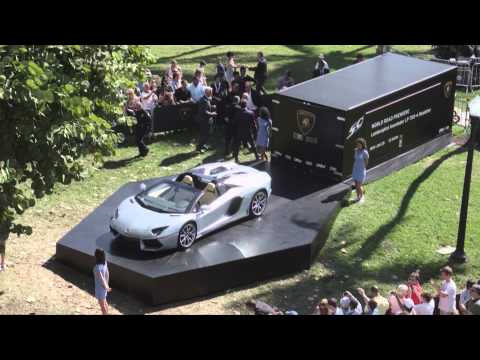 A first drive in a manual rickety old van was enough to pave the road forward for Managing Editor, Sagar Patel. When not driving or riding, his dexterity shifts gear to voice passion through words via reviews, and news, all the while, closely monitoring updates from the auto industry.
Email -
[email protected]
Latest posts by Sagar Patel (see all)
Photo Gallery (4 images)