Nissan NV200 as a London Black cab taxi: To be launched as Evalia in India (Video)
Nissan launched the NV200 van way back in 2009 which was followed by taxi versions which were launched in Tokyo and New York. Now the…
Nissan launched the NV200 van way back in 2009 which was followed by taxi versions which were launched in Tokyo and New York. Now the company is ready to launch these clean and green taxis in London where customers can now hail a Black Cab instead of a traditional yellow taxi. Nissan will be launching the NV200 as Evalia in India by next month. Evalia was showcased earlier this year at the Delhi Auto Expo by Bollywood actor Ranbir Kapoor.
Nissan NV200 adheres to stringent terms of London Conditions of Fitness. NV200 is spacious enough for upto five passengers and under existing rules and regulations has to be wide enough to also accommodate a wheelchair passenger and achieve turning circle of 25 ft. This is only possible if the NV200 London Taxi has a 200mm front track with additional wheel articulation.
NV200 is fitted with a 1.5 liter dCi diesel engine with six speed manual gearbox. It offers 53.3 mpg (18.87 kmpl) and it is this that makes it more economical than other taxis currently in use in London. Auto emissions to are at its minimum at 139g/km beating the clean and green TX4 taxis in London by a huge margin.
It is the endeavor to improve quality of air in London and hence steps are being taken to introduce age limit for taxis while bringing in more competitive models into the market. Tests are still pending after which NV200 taxis will be launched in London sometime during 2013.
Read the press release below for more information
Nissan NV200 London Taxi – Introducing a 21st-century icon for London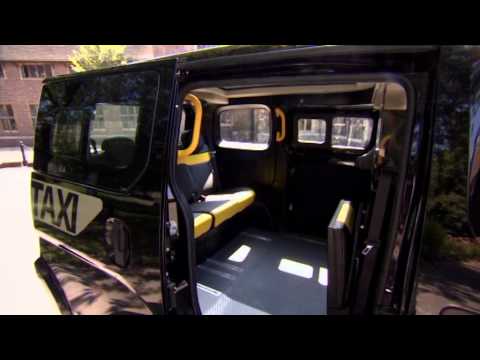 Nissan launches alternative to traditional London 'Black Cab'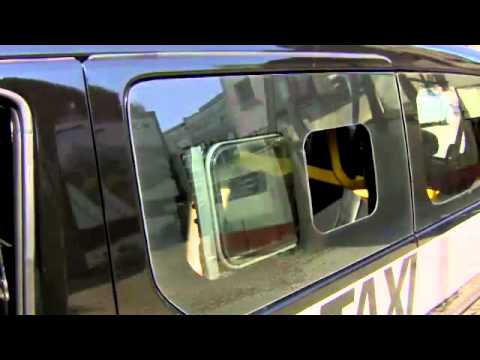 News Release
Nissan launches alternative to traditional London 'Black Cab'
Tokyo, New York and now London……..Nissan NV200 is city taxi of the future
· Cheaper to buy and run, diesel NV200 model is 50% more fuel & CO2 efficient than most efficient current London cabs
· Huge reductions in most harmful NOx and PM emissions
· Fully electric version planned for 2014
· Fully backed by London Mayor, Boris Johnson, the London Taxi Drivers' Association, TfL, the GLA and disability groups
· Designed for greater safety, comfort, space, convenience and accessibility
· Performs vital 25ft turning circle
Nissan today REVEALS a new vision for the future of the London 'black cab' and its 300,000 daily users – the Nissan NV200 London Taxi.
Already unveiled as an official new cab for Tokyo and the exclusive New York City 'Taxi of Tomorrow', the new cab will pick up their first fares on London's streets in Spring 2014.
Currently there are only two alternatives for London's 22,600 cab drivers, the traditional 'LTI TX4 and the Mercedes Vito.
The NV200 will generate 50% less CO2 than the best current taxi model (139g/km vs 209g/km) – in line with Mayor Boris Johnson's Air Quality Strategy for London.
Even more importantly the harmful NOx (nitrogen oxide) and PM (particulate) gases will reduce significantly in line with TfL's and GLA's targets. NOx emissions will come down from 0.50g/km to 0.14g/km, important when 10% of Greater London's NOx emissions come from black cabs, while PM emissions, which account for 20% of central London's airborne pollution, will come down from 0.056g/km to 0.001g/km.
The NV200 will also be 50% more fuel efficient than the best current alternative, its 1.5 litre engine achieving 53.3 mpg (miles per gallon) versus 35.3mpg. The average London cab travels 120 miles a day, so it will see cabbies save almost £700 a year.
The NV200 will also be priced very competitively and significantly below the current equivalent, the London Taxi Company's new TX4 model.
It will comfortably seat five adults – three on a rear bench with two on rear-facing, fold-down seats. All will be able to admire the London skyline through the 1.2m2 transparent roof. Its sliding doors are much safer for pedestrians, cyclists and other vehicles because they do not swing out to create a potential obstruction.
The eNV200 – London's first electric taxi – is expected to hit London's streets in 2014 too. With running costs estimated to be around one fifth of a conventional, diesel-powered Hackney Carriage, its launch will arrive six years ahead of the Mayor's target of 2020 for the introduction of a zero emissions taxi.
Nissan already has a respected place in the Capital's taxi history – its 2.7-litre TD27 diesel engine was chosen for the iconic FX4 Fairway black cab in 1989, which introduced improved speed, reliability and efficiency to the London cabbie's daily drive. The same engine also featured in the Fairway's successor, the TX1.