Launch Price Rs 5.99 lakhs for 2013 Tata Indica Vista D90
Tata Motors Indica Vista D90 has been launched in India at a starting price of Rs 5.99 lakhs. The new Tata Indica hatch, is now on sale across dealerships in India. It features new patented technologies and and unmatched performance.
Tata Vista D90 is powered by 1.3 liter Quadrajet diesel engine offering 88 bhp, which is a first to be seen as against earlier Vista models which offer only 75 bhp. Torque output too is enhanced to 200 Nm, highest in the segment. The new major addition, which Tata says, sets the car apart, is the addition of Variable Geometry Turbocharger Technology. This new technology will ensure that the new Indica Vista D90 will give you a boost in acceleration the moment you hit the pedal. VGT will also help in maintaining peak torque over a longer period.
Cosmetic changes include, black roof with a small '90' badge to distinguish it from earlier models. Its instrument cluster will be seen behind its steering wheel due to the fact that earlier central position was not well received by customers. The needles in the instrument cluster turns red if you over-speed or over-rev. This is a new patented technology from Tata Motors. Improvements are also seen where Vista D90 suspension system is concerned. Electronic break force distribution and anti lock braking systems will also be added to the upcoming model.
There is also another patented technology, which as been added to the new Indica Vista D90. This is the placement of a sensor (see images) on the dashboard behind the steering wheel, which gauges the amount of sunlight and tunes the air-condition accordingly. It has a topspeed of 158 kmph, 0-100 kmph in 15.5 seconds, 0-60 kmph in 6.3 seconds (better than Maruti Suzuki Swift), touchscreen, climate control, power to weight ratio of 76.3 PS/ton, ABS with EBD, and Dual SRS Airbags.
The all-new Tata Vista D90 is available in five exciting colours – Ultra Violet (new), Porcelain White, Spice Red, Cavern Grey and Jet Silver — and 2 trim levels – D90 VX and D90 ZX+. For more information, scroll down.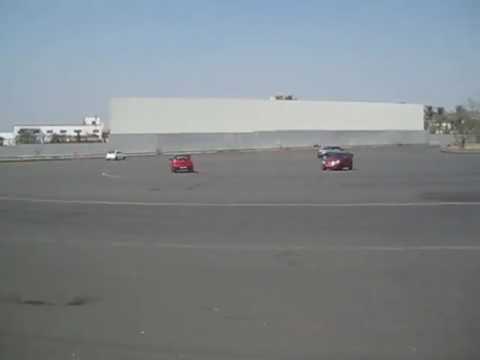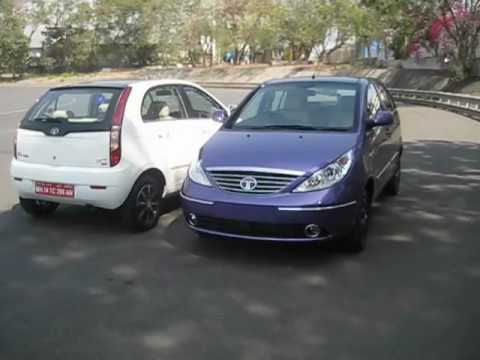 Auto News Release:Â Tata Motors redefines the premium hatchback segment with the all new Tata Vista D90
Offers best-in-class technology features:
Powered by a specially tuned 1.3L Quadrajet diesel engine with Variable Geometry Turbocharger (VGT) technology
Touchscreen multimedia system, with in-built voice guided GPS navigation
Blue5 Technology – now pair upto 5 mobile phones through Bluetooth connectivity
Fully automatic climate control
Advanced driver information system
Next generation instrument cluster
Steering mounted controls
Electric ORVM
Rear charging point
Intelligent rear wiper
Tata Motors today launched its premium hatchback, the all new Tata Vista D90, an advanced & dynamic car, delivering 90PS of raw power, offering first-in-class high-tech features. Powered by a specially tuned Quadrajet diesel engine, with Variable Geometry Turbocharger (VGT) technology, this new generation hatch comes loaded with best-in-class technologies and features, which will cater to the thrill-seeking Indian car buyers.
Speaking at the launch, Mr. Ranjit Yadav, President, Passenger Vehicles Business Unit, Tata Motors, said, "At Tata Motors, we develop our cars around the evolving car customers, matching our products with their demanding needs and growing aspirations. The Tata Vista D90 truly fits into their fast-changing lifestyles with its dynamic and sporty looks, its powerful yet refined powertrain, technology-packed features and luxurious & spacious interiors. All these offerings make it the most premium hatch in its class. We remain firmly committed to developing new products across our entire range and we will continue to set new benchmarks with first-in-class features, designed to meet the needs of the Indian car buyer.
"Our customer-centred cars are backed by customer-engaging purchase experience at our dealerships. We recognise and are changing, in phases, customer engagement levels across our dealerships. With the Tata Vista D90, we begin 2013, with a journey that will see several Tata Motors' product actions through the year."
Designed for the thrill-seeking new-age dynamic customer, the Tata Vista D90, has set a new benchmark in the hatchback segment, with an enticing combination of first-in-class human-machine interface and best-in-class technology features.
Power & Performance:
The Tata Vista D90 promises to provide a thrilling driving experience, with the internationally-acclaimed 90 PS Quadrajet diesel engine. The D90′s engine uses a revolutionary VGT technology, which optimises engine performance at all speeds, resulting in faster throttle response with 200NM Torque and fuel economy of 21.12 KMPL. The D90 engine is perfectly mated to a Euro-tech 2 gearbox, for smooth and comfortable gearshifts to ensure 0-100 KMPH in just 15.5 seconds and a top speed of 158 KMPH.
First-in-class Technologies:
State-of-the-art Touchscreen Multimedia, with a multi-colour TFT interface and an in-built GPS system, combines the entertainment, navigation and communication needs. The touchscreen offers GPS navigation features like adjustable day & night mode, saved destination database, voice instruction guidance and optimal route mode. It comes with a multi-media DVD player and Blue5 technology (pair upto 5 mobile phones through Bluetooth connectivity).
The Fully Automatic Climate Control provides 3 modes — Normal, Auto and Economy mode. The Normal mode ensures that AC temperature in the car is as per the temperature set. The Auto mode senses the outside temperature and with the help of its sensors, automatically conditions the car below the outside temperature. The Economy mode saves fuel and increases mileage, automatically changing the AC compressor cycle to run in economy mode.
Another cutting-edge technology is the Advanced Driver Information System and Fuel Computer. A small digital screen provides an instant update on mileage, average fuel consumption, distance-to-empty, ambient temperature and a digital clock.
Personalised Comfort:
The Tata Vista D90′s best-in-class cabin space has been enriched with Ebony Black and Sahara Beige premium dual tone interiors, next generation driver aligned instrument cluster and steering mounted audio controls. Convenience features like 2-way adjustable 4-spoke steering wheel, 6-way height adjustable driver seat with lumbar support, intelligent rear wiper, electrically adjusted ORVMs, all 4 power windows, rear charging point and follow-me- home headlamps, provide an entertaining and comfortable driving experience in the Tata Vista D90.
Trendy and Youthful:
The Tata Vista D90 has been designed for the young and trendy customer. It's new sporty front and rear bumpers, lavish chrome pack, aerodynamic spoiler, triple barrel headlamps, infinity contrast roof and 2-tone alloy wheels, add vigour to the exteriors, making the Tata Vista D90 a sporty and stylish hatch.
Reassured Safety:
The Tata Vista D90 has been engineered with a special NVH pack that insulates the exterior noise. The car is now even more robust, with 105 kgs of high strength steel frame for extra strength and protection. Top-of-the-line safety & security features like dual front SRS airbags, crumple zones, side intrusion beams, engine immobilizer, central locking and keyless entry ensure complete safety. The car comes with Anti-lock Braking System (ABS) with Electronic Brakeforce Distribution (EBD) technology, as a standard fitment, ensuring better stability and steerability under all braking conditions.
The all-new Tata Vista D90 is available in five exciting colours – Ultra Violet (new), Porcelain White, Spice Red, Cavern Grey and Jet Silver — and 2 trim levels – D90 VX and D90 ZX+.
The Tata Vista D90 range starts from Rs. 5.99 lakhs (ex-showroom, New Delhi).
The Tata Vista D90 comes with a warranty of 2 Years/ 75000 kms, amongst the best in the industry.