Tesla Model S arrives in Europe
Tesla Motors has already started deliveries of Model S, the pathbreaking electric supercar, in USA, and now, they have launched Model S in Europe. Tesla…
Tesla Motors has already started deliveries of Model S, the pathbreaking electric supercar, in USA, and now, they have launched Model S in Europe. Tesla Model S electric saloon will be available in European markets with benefits, however, they will only be able to avail benefits on the high end versions of Model S.
In conjunction with this, Tesla said that it would be leaving out the 40 kWh battery model and will be promoting the 60 and 85 kWh battery pack instead. The 60 kWh battery pack Model S is priced at €71,400, in Germany (Rs 51.90 lakhs or $94,453), which is quite higher than the price of US markets.
In the US, Tesla Model S 40kWh is priced at $49,900, 60 kWh at $59,900, 85 kWh at $69,900 and the Model S Performance at $84,900. The top end Signature Performance model is priced at €109,150 (US$143,700) in Europe. The price is very high compared to its home market. However, European customers who have chosen the opportunity of buying Tesla vehicles by the end of this month, will benefit with a $2,230 reduction in pre tax price.
High prices of these models have been attributed due to shipping costs and modifications which have been integrated to make sure that these vehicles meet the stringent EU regulations. For more information, scroll down.
Inside Tesla 06.19.12 – Assembly Center

Model S Customer Delivery Event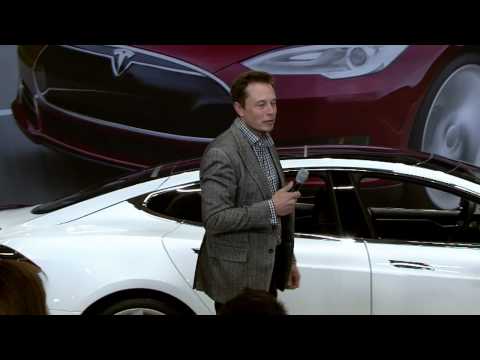 Auto News Release
TESLA MOTORS SETS EUROPEAN PRICING FOR MODEL S
WEDNESDAY, DECEMBER 19, 2012
Tesla Motors set European pricing today for its award winning Model S premium sedan. European customers will have the opportunity to choose either a 60 or 85 kWh Model S. Country-specific prices can be found on Tesla's website.
For customers in the United Kingdom, production of right-hand drive Model S is planned to begin in late-2013. Final pricing will be announced approximately four to five months prior to the start of deliveries.
ABOUT MODEL S
Model S is the world's first premium sedan built from the ground up as an electric vehicle and has been engineered to elevate the public's expectations of what a premium sedan can be. At the heart of Model S is the proven Tesla powertrain, delivering both unprecedented range and a thrilling drive experience. With a rigid body structure, nearly 50/50 weight distribution and a remarkably low center of gravity, Model S offers the responsiveness and agility expected from the world's best sports cars while providing the ride quality of a luxury performance sedan. Model S has received many of the industry's most prestigious awards and accolades during its first year on the market.
Model S offers multiple battery options that set the benchmark for electric driving range. All batteries use automotive-grade lithium-ion cells arranged for optimal energy density, thermal management, and safety.
Without an internal combustion engine or transmission tunnel, the interior of Model S has more cargo space than any other sedan in its class and includes a second trunk under the hood. The Model S interior features a 43 cm in-dash touchscreen with Internet capabilities, allowing for streaming radio, web browsing and navigation.
ABOUT TESLA
Tesla's goal is to accelerate the world's transition to electric mobility with a full range of increasingly affordable electric cars. California-based Tesla designs and manufactures EVs, as well as EV powertrain components for partners such as Toyota and Daimler. Tesla has delivered more than 2,400 Roadsters to customers worldwide. Model S, the world's first premium sedan to be engineered from the ground up as an electric vehicle, began deliveries to U.S. customers in June of this year. Tesla has already received more than 13,000 reservations worldwide for Model S.
Photo Gallery (6 images)