Volkswagen Passat Performance concept at 2013 Detroit Auto Show
The new Passat Performance Concept has made its global debut at the Volkswagen enclosure in COBO Center at the Detroit Auto Show 2013. The 1.8L turbocharged four cylinder mill of this new beast, generates 250 hp.
This new Passat Concept will be seen with a modification of the Volkswagen EA888 1.8 liter turbocharged and direct injected TSI four cylinder engine which is mated to a six speed automatic transmission.
Passat Performance Concept varies from the regular Passat in a number of ways. Passat Performance possesses 19ā€¯ alloy Luxor wheels, Bi-xenon headlights and Advanced Front Lighting System along with LED tail lights. Interiors are done up in carbon which are predominantly seen on the dashboard while matching carbon inserts are seen on the vehicleā€™s two toned leather seating and black headliners.
VW Passat has been a major seller in the US. Together with the Jetta it makes up for 66 percent of VW's total sales in the country. When exactly the new Passat Performance will go into production has not been revealed. For more information, scroll down.
Volkswagen Passat Performance Concept – Detroit 2013 Walkaround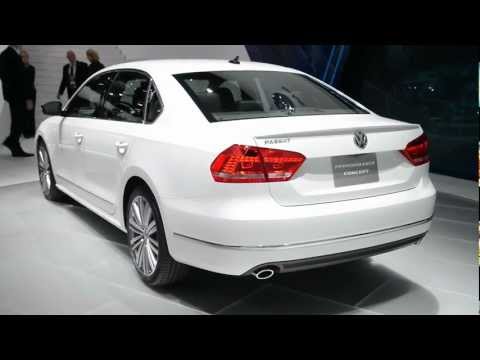 Auto News Release
GLOBAL DEBUT OF VOLKSWAGEN PASSAT PERFORMANCE CONCEPT AT 2013 NORTH AMERICAN INTERNATIONAL AUTO SHOW
- All-new 1.8 TSI engine delivers 250 horsepower and gives a sneak-peek at upcoming sport sedan
- Bi-Xenon-Headlights with Advanced Front Lighting System (AFS) and LED taillights
- Carbon-style detailing inside and out
Herndon, VA – 2012 will go down in the Volkswagen Passat's history as its best sales year ever, with 117,023 units sold of the designed-for-America, Chattanooga-built family sedan. In an exercise to hint at Volkswagen's efforts to explore this practical four-door's sportier side, Volkswagen will unveil the Passat Performance Concept at the 2013 North American International Auto ShowĀ® in Detroit.
The most notable alteration in this concept isn't something you'd see right away-it's under the hood. The Passat Performance Concept features a unique modification of the Volkswagen EA888 1.8 liter turbocharged and direct-injected TSIĀ® four-cylinder engine, which delivers 250 horsepower (184 kW) and is matched to a six-speed automatic transmission. In its existing form, this engine is already available-and popular-among the European and Asian markets.
The Passat Performance Concept further differentiates itself from the regular Passat with a dual exhaust, 19-inch "Luxor" alloy wheels, Bi-Xenon headlights including Advanced Front Lighting System (AFS) and LED taillights and carbon applications on its mirror caps. Inside, carbon-like touches dominate the dashboard, matching the carbon-style inserts on two-color leather seating surfaces and complementing the black headliner and side pillars. A lowered sport suspension and electro-mechanical steering enhance the handling.