Yamaha R25 how to adjust shift timing light – Video
Yamaha R25 bears a cool feature of indicating rider when engine speed crosses 7,000 rpm mark. A white LED light (Shift Timing Light) at the top of instrument console blinks rapidly when needle touches factory programmed 7,000 rpm count. As tacho pointer gets past the number, light stops blinking; not to disturb rider when revving higher intentionally.
Whats more cool is that Yamaha lets you set your own rev point at which you would like to be prompted to upshift. Budding racers would cherish this facility. Video tutorial for setting your shift indication point is appended. Instructions for the same is written below.
1. Keep key position to OFF.
2. Press and hold Select button on the left to tachometer.
Note: Of the two buttons, lower one is Select and above is Reset button.
3. Turn key to ON position while holding Select button down.
4. Wait till readings on LCD display disappear and release Select button.
5. Press Reset button to see shift timing light start blinking.
6. Press Select button once to enter into Shift Timing Light adjust mode.
7. Now STL will blink in long interval.
8. Press Reset button repeatedly to position rev needle at desired shift limit.
9. Press Select to set shift limit.
10. Now press Reset button four times to set STL program.
11. Press Select to exit STL adjust mode.
12. Turn power (key) OFF and ON; start engine and rev to see STL warn at desired shift speed.
Also read – Yamaha R25 expert stunt video, Yamaha R25 assaulting a circuit – Video.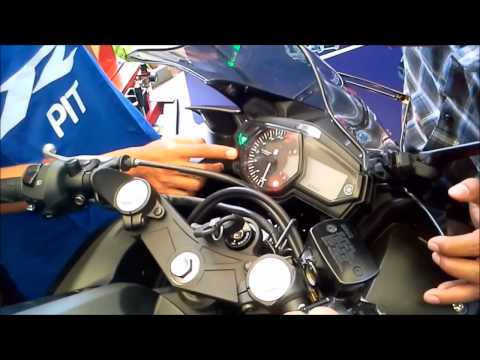 Life after college in 2014 has seen Ashwin Ram propel himself wholeheartedly into the auto industry. Information is never enough for this young blogger who enthusiastically ticks his elaborate checklist at each drive. The need to add that one extra detail ensures select articles that are upbeat, and comprehensive.
Email -
[email protected]
Latest posts by Ashwin Ram N P (see all)