Ford EcoSport EcoBoost engine first images and video
Ford India revealed the all new EcoSport in Mumbai earlier today at the Infinity Mall, Malad. Here are the first images of Ford's new EcoSport SUV sporting the 1.0L EcoBoost engine, and a walk around video of the same, which will give you a peek into the interiors of the EcoSport.
Ford EcoSport is now officially revealed. The compact SUV which will compete with Renault Duster in India, is currently on display in Mumbai mall, which has a in-house roller coaster on the top floor. You can get a ride for INR 250.
But why are we talking about the roller coaster, we are here to show you the all new EcoSport with the state of the art 1.0L EcoBoost engine. The images you see here, are the first images of the 1.0L EcoBoost engine fitted inside the EcoSport.
Ford India has not launched the EcoSport officially, but this is them trying to promote their new SUV by displaying it to the public and potential buyers at malls with highest footfalls in 12 Indian cities. Currently, Delhi's Select City Mall in Saket is also displaying the EcoSport. This makes Delhi and Mumbai the first cities in India to see the EcoSport with EcoBoost.
If you are not from any of the 12 cities where Ford India will be showcasing the EcoSport or don't have the time to visit one, here is the image gallery of EcoSport SUV from Mumbai.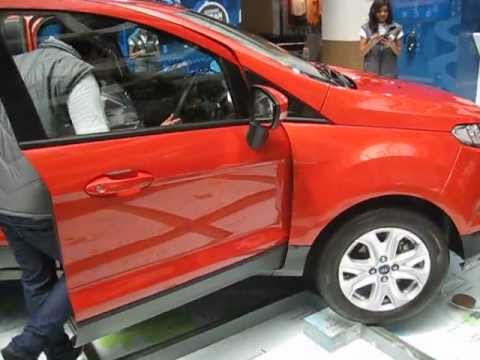 A first drive in a manual rickety old van was enough to pave the road forward for Managing Editor, Sagar Patel. When not driving or riding, his dexterity shifts gear to voice passion through words via reviews, and news, all the while, closely monitoring updates from the auto industry.
Email -
[email protected]
Latest posts by Sagar Patel (see all)
Photo Gallery (7 images)