LaFerrari joins dream collection of Jon Hunt, Maranello – London drive
Jonathan Hunt, a.k.a Jon Hunt, a British property entrepreneur, bought a Ferrari LaFerrari recently, which called for inspiring attention. He drove from London to Maranello to pick up his latest craze, along with two of his children and some friends, on his Ferrari collection that includes a GTO, an F40, an F50 and an Enzo!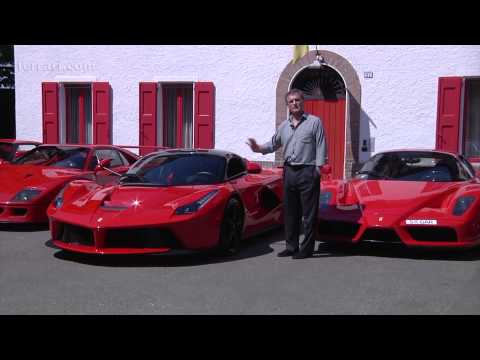 Jon Hunt, the founder of UK estate agency – Foxtons, and restaurant and business members club – Pavilion, being a proud collector of all of LaFerrari's predecessors (in red), has unique bonding with the brand that he doesn't consider buying other hybrid supercars like McLaren P1 and Porsche 918 Spyder. According to Hunt, Ferraris are the ultimate sportscars. He mentioned to Ferrari.com that he got blown away in just 5 minutes behind the wheel of LaFerrari. He has clocked over 16,000 km in his Enzo alone.
Production limited to just 499 units, many would feel blessed to even see a LaFerrari on road. Powered by 6,262 cc V12 engine producing whooping 800 PS, coupled with electric motor generating 163 PS to push total peak power of 963 PS on road. LaFerrari is capable of jetting from 0 to 100 kmph in under 3 seconds, to reach over 350 kmph top speed.
Life after college in 2014 has seen Ashwin Ram propel himself wholeheartedly into the auto industry. Information is never enough for this young blogger who enthusiastically ticks his elaborate checklist at each drive. The need to add that one extra detail ensures select articles that are upbeat, and comprehensive.
Email -
[email protected]
Latest posts by Ashwin Ram N P (see all)