Yamaha R25 expert stunt video & first 100 owners dinner celebration
Yamaha R25 quarter litre sports bike has acquired a huge fan base in very short time in Indonesian market. It also has biking enthusiasts in Japan, Europe, India and other neighbouring countries biting their nails and waiting to hear about their local launch. Inspite of paused booking in Indonesia and uncertain export plans, promotional activities around the bike does not seem to take a break.
The video below shows two motorcycle stunt experts putting up a thrilling show with
Yamaha R25
bikes, at a basement parking lot in Indonesia. Stunt riders perform usual wheelies, stoppies, 12 o' clocks, circles and burnouts on Yamaha R25 bikes fitted with scrape bars. Various stunt shows official and unofficial were hosted with Yamaha R15 entry level full faired bikes before, now R25 steps in as bigger brother to steal the spotlight here on.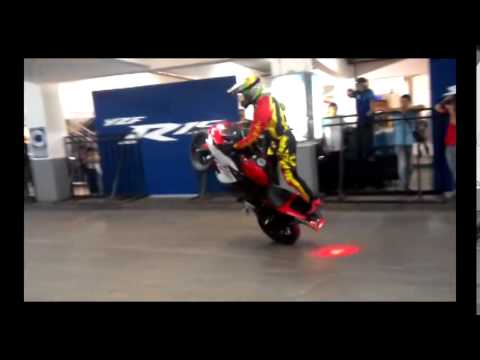 Yamaha Indonesia Motor Manufacturing hosted a dinner party for world's first 100 owners of
Yamaha R25 sports bike
, and celebrated the occasion with music and dance shows. YIMM made a presentation of Yamaha's journey in motorcycle manufacturing and racing world and made a special unveil of the R25 bike there.
The first 100 owners booked their rides at iwantyamahar25.com, among the total of
2,800 booking orders
received by Yamaha Indonesia in the first 25 hours of official launch. Online booking process was ceased then, even dealership outlets are not taking booking orders as YIMM's distribution and allotment plan is not finalised yet. Judging by the buzz created in Indonesian market, YIMM would prefer catering to local customers first, inevitably pushing
export plans for India
, Japan and other craving markets to 2015.
Here is a video of Yamaha YZF-R25 rolling on a dynamometer.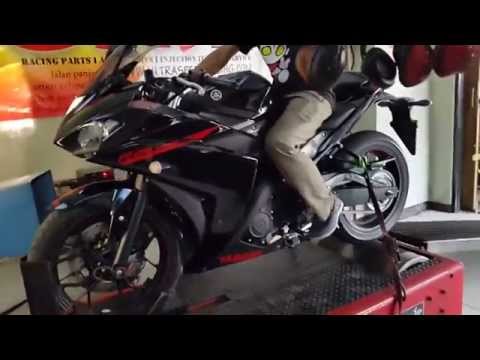 Biking enthusiasts can watch Yamaha R25 being tested on Sportsland SUGO race track in Japan, here.
Life after college in 2014 has seen Ashwin Ram propel himself wholeheartedly into the auto industry. Information is never enough for this young blogger who enthusiastically ticks his elaborate checklist at each drive. The need to add that one extra detail ensures select articles that are upbeat, and comprehensive.
Email -
[email protected]
Latest posts by Ashwin Ram N P (see all)