2014 Audi RS6 Avant to go on sale next year
2014 Audi new RS6 Avant is scheduled to be available in auto markets by 2013. Power to the new RS6 Avant will come from 4.0 liter…
2014 Audi new RS6 Avant is scheduled to be available in auto markets by 2013. Power to the new RS6 Avant will come from 4.0 liter TFSI bi-turbo V8 engine which is also seen in the new Bentley Continental GT V8 and the S6 and S8. This engine is capable of delivering 560 hp while torque figures stand at 700 Nm at between 1750 to 5500 rpm. The new Audi RS6 offers reduced fuel consumption to the tune of 40% over the previous RS6 Avant at 9.8 liters per 100 kilometers (10.2 kmpl).
The new RS6 Avant will be able to sprint from 0 to 62 mph in 3.9 seconds making it 0.5 seconds faster than the outgoing model and 0.4 seconds faster than the BMW M5 sedan. The top speed is electronically limited to 250 kmph while the Dynamic package offers customers a top speed of 280 kmph and the Dynamic Plus goes all the way upto 305 kmph.
First pictures of this upcoming model has made its way to the internet. The new model with about 20% of its body made out of aluminum contributes to weight reduction of 100 kgs over its predecessor. This results in better handling. Sales across Europe will commence in 2013 but the company has not revealed its sales plans for North America. For more information, scroll down.
New Audi RS6 Avant Trailer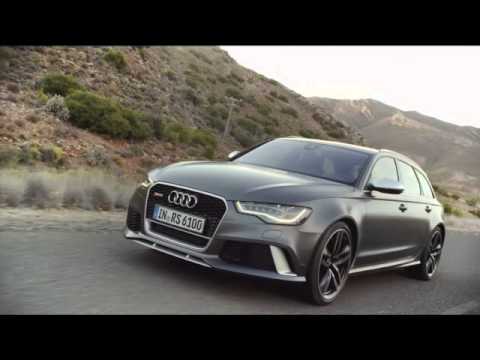 Auto News Release
Groundbreaking performance: The new Audi RS 6 Avant
Powerful twin-turbo V8: 4.0 TFSI with 412 kW (560 hp) and 700 Nm (516.29 lb-ft)
Reduced weight for greater efficiency and stronger performance
0 – 100 km/h (62.14 mph) in 3.9 seconds, top speed 305 km/h (189.52 mph)
The new Audi RS 6 Avant stands for groundbreaking performance. It is lighter and more efficient than the previous model, and performance has been improved once again. The sprint from 0 to 100 km/h (62.14 mph) takes just 3.9 seconds, and top speed is 305 km/h (189.52 mph). The 4.0 TFSI develops 412 kW (560 hp), but is content with an average fuel consumption of just 9.8 liters per 100 kilometers (24.00 US mpg).