Sao Paulo Motor Show: Hyundai HB20X Fluidic crossover revealed, HB20 sedan next hear
South Korean car manufacturers, Hyundai Motors revealed their all new HB20X crossover at the ongoing Sao Paulo Motor Show in Brazil. The HB here stands…
South Korean car manufacturers, Hyundai Motors revealed their all new HB20X crossover at the ongoing Sao Paulo Motor Show in Brazil. The HB here stands for Hyundai Brazil. Hyundai has announced that the new crossover HB20X is dedicated only to the Brazilian car industry, as of now. They also added that next year, they will launch a sedan version of the HB20X. All HB cars will be sold through dedicated dealerships.
The new Hyundai crossover for Brazil is powered by a 1.6L four cylinder generating 128 hp and 162 Nm torque when running on E100 fuel. The same engine when running on E22, delivers 122 hp and 157 Nm torque. Brazil being a flex fuel nation, their cars run on ethanol or a mixture of ethanol and petrol. Here E100 means 100% ethanol and E22 means 22% ethanol and remaining is petrol/gasoline.
Hyundai HB20X is 3940 mm long (another sub 4 meter SUV, very good chance of seeing this one or something similar in India), 1710 mm long, 1540 mm tall, 2500 mm wheelbase and 300 liters of trunk space. Hyundai HB20X is based on their Fluidic sculpture design. Apart from the Hyundai HB20X, you can also see the I30, Santa Fe, Hexa Space concept and My Baby global design project at the Sao Paulo Motor Show.
For more information, scroll down.
New HB20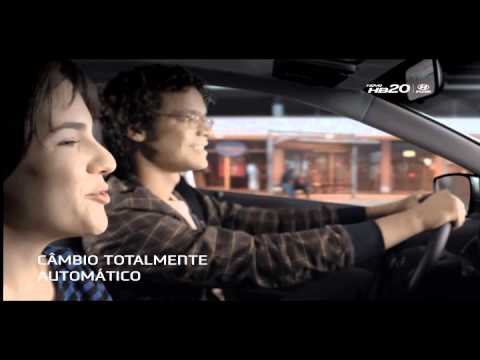 Auto News Release
Hyundai Reveals New Crossover HB20X At 2012 Sao Paulo Motor Show
- New crossover is part of Hyundai's Brazil-exclusive HB family
- Hyundai to launch sedan version next year
- Hyundai to sell HB models through new, dedicated dealerships
Oct. 22, 2012 – Hyundai Motor Brasil (HMB), a wholly-owned subsidiary of Hyundai Motor Company, today unveiled its latest Brazil-exclusive model, HB20X, at the Sao Paulo International Motor Show, accelerating the company's commitment in one of the world's fastest-growing auto markets.
The crossover vehicle, which will officially launch early next year, is part of Hyundai's exclusive family of cars for Brazil, badged under the name `HB,' which stands for Hyundai Brasil. Just last month, Hyundai launched the first member of its HB family, a hatchback version called HB20. A sedan version is scheduled to debut in the first quarter next year.
"Hyundai invested years of research to identify the top values of Brazilian consumers and what standards they set when choosing new vehicles," Hyundai Motor's Vice Chairman Euisun Chung said during a speech at the motor show. "We are confident that the HB family will not only meet, but exceed Brazilian consumers' expectations with its outstanding design, finish and flexible fuel support."
"Furthermore, with our new plant, Hyundai's ultimate goal is to become a true partner of
Brazil, a country that is dynamically emerging as a major force in the world's economy," Vice Chairman Chung said. "We aim to be a company that contributes strongly to Brazil's industrial, economic and social competitiveness."
All HB models will be produced at Hyundai Motor's new plant in Piracicaba, Sao Paulo state and sold through a dedicated dealer network.
HB20X
The crossover version, which is based on the HB20 hatchback, features unique details in its design and performance that meet the demands of customers that have a more active lifestyle outdoors.
The front has a totally redesigned bumper with a hexagonal grille that reflects Hyundai's new family look for SUVs and latest design philosophy, Fluidic Sculpture.
The headlights have an eye-catching finish with black bezel and chrome details, giving off a sporty and sophisticated image, while the fog lamps were redesigned to give a stronger impression. The side of the HB20X keeps the original waistline from HB20, which encompassed a robust and fluidic design.
The novelties are the side black molding that wraps the whole body and its ground clearance, valuable features for more visibility and control on bad road conditions. The roof bars offer more flexibility for carrying extra weekend luggage, while the 15-inch dark gray alloy wheels complete the sporty image of this vehicle.
The rear of the HB20X also has a redesigned bumper, with black moldings. The stylish rear lamps, already seen on the HB20, immediately capture one's attention.
Inside, the HB20X features the same high quality interior of the HB20, adding exclusive items such as sports pedals, chrome finishing for door handles and air conditioning controls, as well as blue double stitches for the steering wheel and seats.*
(* Some features applied to the HB20X displayed at the Sao Paulo Motor Show are exclusive and may change slightly in the production versions)
HB20X will offer Hyundai's GAMMA 1.6 16V FLEX with 128hp engine featuring a Continuous Variable Vavle Timing and aluminum block, the most powerful in the category. Customers can choose between manual or automatic transmissions.
Santa Fe, i30
Besides the unveiling of HB20X, Hyundai today introduced two new products for Brazil: The all-new Santa Fe and i30.
The latest Santa Fe, now in its third generation, showcases the brand's cutting-edge capabilities through its bold design, impressive fuel economy and a host of features to delight drivers and passengers with high expectations for functionality and comfort. The model made its world debut at the 2012 New York International Auto Show in April.
The new generation i30, which was designed and developed at Hyundai Motor Europe's technical center in Germany, represents a new evolution of Hyundai's exclusive design language, Fluidic Sculpture. The new i30 is expected to maintain its position as the segment leader in sales: Launched in 2009, the previous model was Brazil's best-seller in its segment for the past two years.
Hexa Space
Hyundai also displayed a multi-purpose concept vehicle called "Hexa Space," which first debuted at the Auto Expo 2012 in New Delhi this January. The concept, codenamed HND-7, revolutionizes the use of interior space, another example of Hyundai's "New Thinking. New Possibilities."
The vehicle features eight slim, hexagonally shaped seats that fit together like puzzle pieces, maximizing internal space while minimizing vehicle width. From honeycombs to architecture, the hexagon is known as an optimum shape for space efficiency.
Hexa Space is targeted at young urban families in their 30s and 40s; customers who live a practical and demanding lifestyle in the bustling and exciting cities of the world's emerging
economies. These customers need their vehicles to serve many roles and Hexa Space satisfies those needs with its unique seat design.
My Baby
'My Baby' is Hyundai Motor's global design project showcasing the "new thinking" of its designers on future transportation. The project started in 2008 as an internal competition with the aim of enhancing designers' creativity. The first winners at the time had the privilege of having their work displayed at the 2009 Seoul Motor Show. The project title, My Baby, appropriately reflects the designers' devotion and attachment to their work.
Once Hyundai's designers based in Korea, U.S., China, Japan, Europe and India submit their brilliant design ideas on future transportation according to the year's theme, about 30 best ideas are selected and announced as winners at the biennial Seoul Motor Show. The ideas, which are made into tangible displays, are included at major motor shows that Hyundai Motor participates in. The results suggest new directions for future transportation methods, while hinting at the direction of Hyundai's future designs.
Unveiled at the 2011 Seoul Motor Show, the second round of exhibition models were designed under the theme 'Fluidic, Green, Future.' This was further divided into three major concepts: Terra Mobiles, Nautica and Aerodyne. Four models from this collection made its debut today at the Sao Paulo International Motor Show.
HB20X Specification
Photo Gallery (4 images)