Cadillac CTS-V Coupe tuned to Hennessey VR1200: Generates 1226 hp and top speed 387 kmph (Photos & Video)
Texas based car tuner, Hennessey has revealed what their new limited edition VR1200 coupe is in reality. Limited to the extent that only 12 such…
Texas based car tuner, Hennessey has revealed what their new limited edition VR1200 coupe is in reality. Limited to the extent that only 12 such models will be available, Hennessey has claimed that the VR1200 will possess 1226 hp with 1109 lb/ft torque. The limited edition is based on the Cadillac CTS-V Coupe with double the horsepower.
It will possess a 7.0 liter engine and a pair of turbos. Forged pistons, connecting rods and a forged crankshaft will also be seen in the upcoming model. As per inputs received once the finished product is complete with all updates it will be close to Venom GT in many aspects.
Hennessey has confirmed that the VR1200 will be able to do 0-60 mph (0-97 kmph) in 2.9 seconds and will reach a top speed of 242 mph (387 kmph). The tuning company has taken off the stock brakes and in its stead added 15.1" carbon ceramic rotors both at the front and rear pressed by eight piston clamps and six piston calipers.  A host of other carbon fiber body parts are added both the exterior and interior.
For more information, scroll down.
2013 Hennessey VR1200 Twin Turbo Coupe – Dyno Testing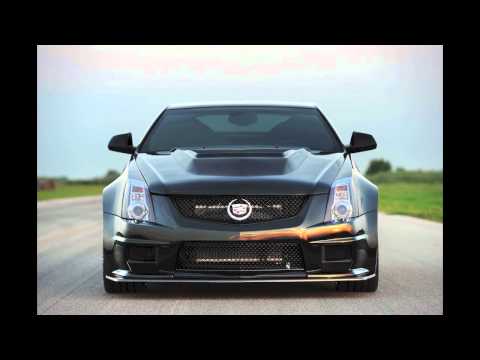 Auto News Release
2013 VR1200 Twin Turbo Coupe
Production limited to just 12 vehicles
Power:
• 1,226 bhp @ 6,400 rpm (1,066 Rear Wheel HP)
• 1,109 lb-ft torque @ 4,000 rpm (964 Rear Wheel Torque)
Estimated Performance:
• 0-60 mph: 2.9 seconds
• 1/4 Mile: 10.2 @ 141 mph
• Top Speed: 242 mph
VR1200 Twin Turbo Upgrade Includes:
• 427 CID (7.0L) Aluminum V8 Engine
• Forged Aluminum Pistons
• Forged Steel Connecting Rods
• Forged Steel Crankshaft
• Balanced and Blueprinted Rotating Assembly
• ARP Main Studs & Head Bolts
• High Flow Cylinder Heads
• Hennessey VR1200 Camshaft
• Upgraded Fuel Injectors
• Upgraded Fuel System (Includes Lines, Rails, Regulator & Pump)
• Twin Ball Bearing, Billet Wheel Precision Turbochargers
• Dual Wastegates
• Adjustable Boost Controller (800, 1000 & 1226 HP power settings)
• Stainless Steel Turbo Downpipes and Exhaust System
• Air-to-Water Intercooler
• High-Flow Air Induction System
• Professional Installation
• HPE Engine Management Calibration
• Dyno Tuning & Road Testing
• Hennessey Exterior Badging
• Serial-Numbered Dash & Engine Plaques
• 3 Year / 36,000 Mile Limited Warranty
Transmission & Drivetrain Upgrades:
• Manual: Centerforce Dual Friction Clutch Upgrade
• Automatic: Performance Build & Torque Converter Upgrade (Add $20,000)
• Extreme Duty CV-Shaft Upgrade
Brembo Brake System Upgrades:
• 15.1 inch Carbon Ceramic Rotors (Front & Rear)
• Calipers: 8-Piston (Front); 6-Piston (Rear)
Wheels & Tire Upgrades:
• Hennessey Wheels: 20×10 inch (Front); 20×13 inch (Rear)
• Michelin Pilot Super Sport Tires: 275/30YR-20 (Front); 345/30YR-20 (Rear)
Suspension Upgrades:
• Lowered 1″ (Front & Rear)
• Upgraded Front and Rear Swaybars
• Factory Magnetic Ride Control Tuned by John Heinricy
CarbonAero Widebody Body:
• Carbon Fiber Front Splitter
• Carbon Fiber Rear Diffuser
• Carbon Fiber Front Fenders
• Carbon Fiber Extractor Hood
• Carbon Fiber Rear Fender Flares
Interior Upgrades:
• Alcantara Headliner
• Carbon Fiber Door Sills
• Upgraded Leather & Stitching
• Hennessey Embroidered Heardrests
• Hennessey Premium Floormats
Production Details:
• VR1200 also available in 4-door sedan and Sport Wagon body styles
• Allow 6 months build time
• Production limited to just 12 vehicles
A first drive in a manual rickety old van was enough to pave the road forward for Managing Editor, Sagar Patel. When not driving or riding, his dexterity shifts gear to voice passion through words via reviews, and news, all the while, closely monitoring updates from the auto industry.
Email -
[email protected]
Latest posts by Sagar Patel (see all)
Photo Gallery (12 images)